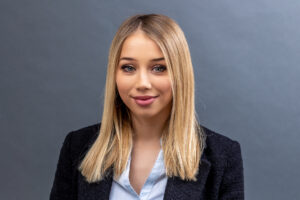 Zoé Dóra Székeli
Junior Associate
Zoé Dóra Székeli joined us early on, as a graduate fresh from university. A real social butterfly, she has truly blossomed at bktp, adding a fresh youthfulness and quickly becoming as much of a whiz with her tasks as she is on Instagram.
While Zoe works mainly on airport issues, she is also a vital help to us all across the board and throws herself into drafting and amending documents and enforcement procedures, amongst other corporate work.
Zoe loves it when we have our photo shoots as it allows her to bring her personal passion to the office. It's always such a joy to behold our transformation when she doubles as our personal stylist and make-up artist. Whatever magic she works, the camera loves it!