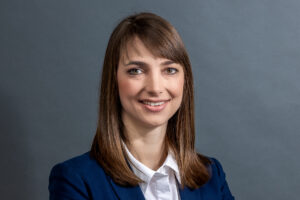 Katalin Bendzsel-Zsebik
Attorney-at-law
Law firm stuff:
Katalin is a senior litigator and master drafter who has been on Milán's dispute resolution teams since graduating. A highly analytical thinker, Katalin is thorough and methodical in her work, leaving no legal detail or creative solution unchecked!
Katalin is dedicated to doing everything in her power for a case, and it's her mission to make every court submission as clear, logical, and understandable as possible.
Other stuff:
While demure and disciplined at the office, outside of it Katalin is like an excitable kid who speaks 25 languages (only a slight exaggeration). There is no sport that she wouldn't want to – or doesn't already – do. Katalin also loves sewing, hiking with her family and dog, and playing tennis – if her knee allows.
Languages:
Hungarian (native), English, German, French, Russian
Graduated from:
Eötvös Loránd University in 2009